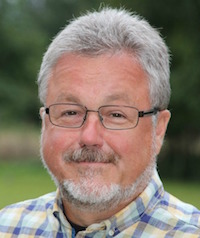 25 YEARS GODS AMBASSADE, A SIMPLE DIVINE ADVENTURE
It all started off miraculously. I was healed from that incurable cancer which, as usual, tried to cause death and destruction. I had expected that this miracle would bring revival in the hospital but apparently nothing happened there. As a family, a church and a large group of people who prayed with us, we were very happy. Occasionally I was asked to testify in the services of Martie Haaijer, in other churches and at a meeting of The Full Gospel Businessmen, but for a while that's all it was…. until I received an invitation from a professor at the Catholic University Leuven to come and speak with Inger about divine healing for final-year students of general practice medicine. To cut a wonderful story short: a workgroup "arts en geloof" ("doctor and faith") was set up and many doctors converted. The latter witnessed to patients who, in turn, gave their lives to Jesus. It was very similar to a revival. One doctor didn't want to hold a consultation on Tuesday evening anymore, but instead wanted to pray with patients. We met every week, a lot of people got healed and that same group grew into a church that now exists for 25 years.
Gods Ambassade is therefore actually a ministry from which a church originated. We worked together many times with Martie Haaijer and her organization, Obed and learned a lot from it. The church grew and in 2005 we started the healing school. More and more invitations came from inland and abroad for healing services, Bible studies, healing schools and conferences. In the meantime we had been working in Fatherheart Ministries with James Jordan for some time and had also organized Fatherheart Schools in Belgium.
Looking back Gods Ambassade has reached thousands of people around the world with the message of Father's healing love and has changed many lives, thanks in part to the live streams and our film work.
Drinking place When this work started, one of our friends had an image showing that GA would be a drinking place for thirsty sheep. They would come to drink and move on. We have noticed this: many people have come and gone. Some have gone in a completely different direction with the Father, others have unfortunately fulfilled Jesus' parable of the sower and have dropped out.
Future Everything started in simplicity and Father will continue to lead it that way. It started as truly Belgian and is now going all around the world. Everything started very small but the influence is getting bigger and bigger. More and more people are being trained to pass on the message. We are surrounded by a wonderful team of coworkers of whom we are very proud. One of our most important slogans in the past is still so very true today:
World beware, here we come!!
Many blessings!
Hugo