God protects
GOD PROTECTS!
Jasmijn relates:
"It is Monday morning. The schedule for the forenoon looks as follows: after breakfast to the market and after that still to the store too.
While I prepare myself, I pray to God. I ask Him to open my eyes for His goodness and for the small 'miracles' He is doing for us day after day.
09:30h. Finally we are standing at the front door, ready to leave. Given my tight schedule, I put up some speed. I am already on my way from the front door to the car, when suddenly Bram says he still wants to take a toy with him. I open the front door to about one full meter, and I go already on to the car. When I am fixing Jonas in the car, Bram comes running to me already and he comes and sits in the car too. I fasten him and we leave. First to market, then to the store. About a full one and a half hour later, we arrive back home. I loosen the boys and I walk to the front door... and it is still almost completely open!!! It takes a while before I realise that I had forgotten to close it.
Immediately I went to look around inside, but everything was just as we had left it. Nothing was missing, not even any keys! I am sure, our house has been protected by God Himself that morning! "
Tiny lipoma dissapears ...
On Saturday the 14th of April, Sandy looked at herself in the glass, and all of a sudden she noticed that she had been cured! For more than a year she had had a white globule under her eye.
Read more ...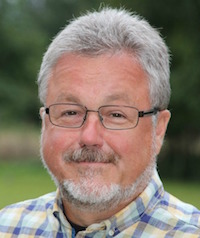 Faith Watchers
Do you carry a lot of weight in your life?
Is everything so exhausting, heavy and stressful?
Do you want one size less?
Then you've come to the right place at Faith Watchers!
It is a fact that many people in the West suffer from obesity.
A lot is being done to sensitize people to a solution.
The 'spiritual overweight', which often causes all other problems, is regularly overlooked.
The operation of Faith Watchers is very simple:
Step 1: you decide to give God the most important place in your life
Step 2: you surrender everything to Him (so you let go of everything)
Step 3: You follow Him unconditionally
Step 4: You sit together with brothers and sisters
Step 5: you pass on the good news you have received to others.
Faith Watchers, the surprising system to get rid of obesity.
Many blessings!
Hugo